You can count on us to provide the expert gutter guard installation services you need.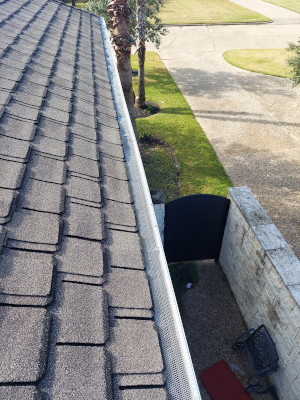 In our experience here at Aggieland Gutters, most people understand why it's important to keep their gutters clean, but many also hate actually cleaning them. If you would prefer to clean your gutters as little as possible, you should consider installing gutter guards to keep debris out. Our team has the right experience to take care of the gutter guard installation process, and we'll make sure everything is installed correctly so you get the best possible performance.
For those who are not familiar with gutter guards, allow us to explain more about them. Gutter guards are mesh covers that go over your gutter troughs. The mesh allows water to pass through but keeps leaves and other debris out. After the installation, your gutters can continue to function as normal, but they will not get clogged, and they won't need to be cleaned nearly as often. If you are interested in upgrading your gutters like this, we encourage you to give us a call to have us provide expert gutter guard installation services. We have extensive experience in the industry, and you can count on us to deliver the outstanding results you deserve. To learn more about our services, feel free to reach out to our team.
Our team is proud to serve the community here in Bryan, Texas, and we want to help you keep your gutters in great condition and prevent them from getting clogged. If you want to add gutter guards to your home, simply give us a call to get our gutter guard installation experts on the job.